So I know I had already started one weekly feature, "Weekend Wishlist." However, I started thinking about how I find various sources of inspiration over the course of the week, from new (to me) blogs, recipes, music, tutorials, outfits, photography, and so on and so forth and you get the picture. So I thought, why not just compile it into one big weekly conglomeration of awesomeness each week? Henceforth, I give you:
1.
This post
from Amy over at
Vanagon Champion
. This gal has got it going on. All the inspiration I've been getting from her, as well as Rachele of
The Nearsighted Owl
has my self-esteem through the roof! If you have not yet had the pleasure of reading these blogs, do yourself a favor and do it now!
2. The
doll suitcase tutorial
via
Hart & Sew
. It's so cute, I can't take it! I don't get to make as many things for Layla as I'd like to, but I'm pretty sure this is going on the top of my list of things to make. I can only imagine how thrilled she would be to have one of these! I even have the suitcase already.
3. I normally don't really care about music videos, but this one kinda blew me away. I've had this song stuck in my head all week and I'm actually okay with it!
4. These spectacular vintage sandals via
Selenesian
on
Etsy
. They're so unique and they look super comfy! Such a bummer they're already sold, they were even my size. >_<
5. I'm a total sucker for cute foods. I have one
Pinterest
board dedicated solely to
cupcakes
alone! These adorable little popsicle cupcakes just slay me. Wouldn't they be just perfect for a summer birthday party? Especially a pool party?!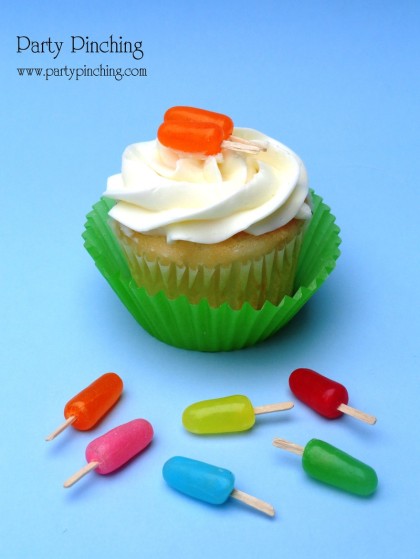 Hope you enjoyed my first ever "Friday Findings!" Happy Weekend!